Blood of some, Oil of many
Recent attacks by Al Qaeda related groups in Saudi Arabia against expatriates suggest that they are trying to strike at the Saudi regime. However, some believe that groups like the Al Qaeda may have the wider goal of striking at the oil industry itself. The Singaporean authorities, for example, worry about the interdiction of tanker traffic in the Straits of Malacca.
Minister for Security Tony Tan said attacks on ships by sea pirates in Southeast Asia are resembling military operations – growing bolder, more violent and fuelling fears of an attack that would cripple world trade. ... "In previous years when you had a piracy attack, what it meant is that you have a sampan or a boat coming up to a cargo ship, pirates throwing up some ropes, scrambling on board, ransacking the ship for valuables, stealing money and then running away," Tan told an Asian security forum, according to a report in the Khaleej Times. "But the last piracy attack that took place in the Straits of Malacca showed a different pattern," he added. The pirates were well armed, operating sophisticated weapons and commanding high-speed boats. "They conducted the operation almost with military precision."

Tan added: "Instead of just ransacking the ship for valuables, they took command of the ship, and steered the ship for about an hour, and then eventually left with the captain in their captivity. To all of us, this is reminiscent of the pattern by which terrorists mount an attack."
Although the "no blood for oil" theme has always imputed to America, the reality is that Europe and the industrialized countries of Asia in particular are more dependent on Persian Gulf imports than the US. (http://www.eia.doe.gov/emeu/international/petroleu.html).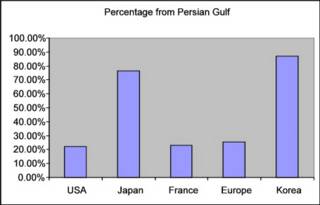 Percentage of Oil Imports from the Persian Gulf
Interestingly enough, the dependence of Third World countries on oil imports will grow at a far faster rate than the industrialized countries. India and China in particular will experience a growth in energy demand far exceeding that of mature economies. But even Central and South America and Africa will need oil products. Many people will be surprised to discover that Mexico, not Canada, is already the second largest consumer of petroleum in North America and will probably increase its lead over time. This chart of yearly percentage increases in petroleum consumption averaged to 2025 illustrates this.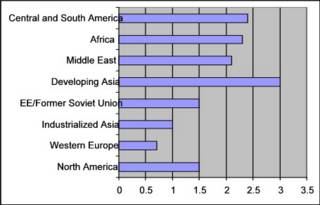 Consumption growth by Region
It is the world, not just America, that is junked up on oil -- a supply now possibly a long-term target of the Al Qaeda. Yet most of this vital product passes through choke points whose security is ultimately guaranteed primarily by the American taxpayer. This list of world oil chokepoints illustrates the situation.
Location
Barrels per day
Bab el-Mandab
Location: Djibouti/Eritrea/Yemen; connects the Red Sea with the Gulf of Aden and the Arabian Sea
Oil Flows (2000E): 3.2-3.3 million bbl/d
Destination of Oil Exports: Europe, United States, Asia
Bosporus/Turkish Straits
Location: Turkey; this 17-mile long waterway divides Asia from Europe and connects the Black Sea with the Mediterranean Sea
Oil Flows (2003E): 3.0 million bbl/d (nearly all southbound; mostly crude oil with several hundred thousand barrels per day of products as well)
Destination of Oil Exports: Western and Southern Europe
Russian Oil and Gas Export Pipelines/Ports
Location: Russian oil and gas exports transit via pipelines that pass through Russia, Ukraine, Belarus, Hungary, Slovakia, the Czech Republic, and Poland,
Major Oil Export Ports: Novorossiisk (Russia -- Black Sea); Primorsk (Russia -- Baltic Sea/Gulf of Finland); Tuapse (Russia); Ventspils (Latvia); Odessa (Ukraine)
Major Oil Pipelines (capacity, 2003E): Druzhba (1.2 million bbl/d); Baltic Pipeline System/Primorsk (840,000 bbl/d)
Major Natural Gas Pipelines (capacity, 2003E): Brotherhood, Progress, and Union (1 trillion cubic feet -- tcf -- capacity each); Northern Lights (0.8 tcf); Volga/Urals-Vyborg, Finland (0.1 tcf). Yamal (to Europe, via Belarus; 1.0 Tcf, partly operational); Blue Stream (to Turkey via Black Sea; 0.56 Tcf, construction completed in October 2002)
Destination of Oil and Gas Exports: Eastern Europe, Netherlands, Italy, Germany, France, other Western Europe.
Strait of Hormuz
Location: Oman/Iran; connects the Persian Gulf with the Gulf of Oman and the Arabian Sea
Oil Flows (2003E): 15-15.5 million bbl/d
Destination of Oil Exports: Japan, United States, Western Europe
Strait of Malacca
Location: Malaysia/Singapore; connects the Indian Ocean with the South China Sea and the Pacific Ocean.
Oil Flows (2003E): 11 million bbl/d
Destination of Oil Exports: Japan, South Korea, China, other Pacific Rim countries
Suez Canal and Sumed Pipline
Location: Egypt; connects the Red Sea and Gulf of Suez with the Mediterranean Sea
Oil Flows (2003E): 3.8 million bbl/d. Of this total, the Sumed Pipeline transported 2.5 million bbl/d of oil northbound (nearly all from Saudi Arabia) and the Suez Canal about 1.3 million bbl/d total.
Destination of Sumed Oil Exports: Predominantly Europe; also United States.
Concerns/Background: Closure of the Suez Canal and/or Sumed Pipeline would divert tankers around the southern tip of Africa (the Cape of Good Hope), adding greatly to transit time and effectively tying up tanker capacity.
Except for the Russian oil pipelines and the Panama Canal, which has been excluded from this list, nearly all the oil chokepoints are in regions where groups like Al Qaeda can be expected to operate. But although the dependence on oil is global, the defense of these strategic corridors has not been internationalized. While the US does not use the oil shipped through the Straits of Malacca, it will naturally be the linchpin around which the Regional Maritime Security Initiative, which is expected to secure the Straits, is based. This is not to say that America alone bears the cost of defending the oil supply. STRATFOR's June 8, 2004 briefing (hat tip reader JM) estimates that consumers already paying for terror at the pump. "Stratfor sources associated with a number of oil firms and finance houses indicate that there is approximately an $8 "terror" premium factored into the price of each barrel of oil."
This premium is charged by oil companies to provide 'security' for their facilities. For example, "the Canadian oil company Nexen, which operates the ash-Shihr oil export terminal, agreed in January 2003 to provide assistance to the Yemeni government in improving security" after an attack on the French-flagged tanker Limburg in 2002. Those who would revile the Blackwater security contractors in Iraq as "mercenaries" trading "blood for oil" should consider how this is the least of its manifestations. Yet none of these private arrangements would be of much use without the cover provided by US naval and military forces. A major interdiction of the Straits of Hormuz, Malacca or the Suez Canal would beyond the capability of a private oil company, however large, to remedy.
There is a further price which goes beyond securing existing facilities. As STRATFOR pointed out, the real problem is adding new oil production in areas beset by terrorism threats. Unlike existing facilities which can be run by Saudis, new production or enhanced recovery from mature fields is critically dependent on expatriate expertise and new investment. And it is precisely those expatriates who are being attacked.
It is the Third World, with its thin survival margines, that will be most affected by an interruption in oil supplies. And it may not be possible to guarantee supplies by using oil companies to funnel "assistance" to producing governments to provide security indefinitely. In actuality, the world expects America to pay, both in monetary terms and in human loss, for maritime and oil security. Those who object that this is unfair should read Garret Hardin's "The Tragedy of the Commons" which describes this phenomenon:
The key to the tragedy of the commons is when individuals use a public good, they do not bear the entire cost of their several actions. Each seeks to maximize individual utility, and so ignores costs born by others. This is an example of an externality. The best (non-cooperative) strategy for an individual is to try to exploit more than his or her share of public resources. Since every rational individual will follow this strategy, the public resource gets overexploited.
That overexploited public resource, in this instance, is American lives, or to be perfectly fair, Coalition lives. The classic solution would be to charge nations a surcharge for oil to compensate for their lack of contribution to the security of a resource which they use. But that would mean charging some countries more than others for oil and the world isn't ready for that. It would be perceived as unfair.